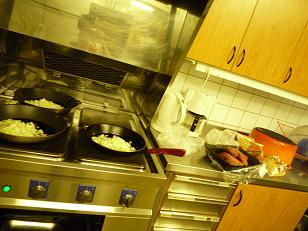 私はウプサラのコレクティブにすんでいます。といっても、ピンと来る人は多分少ないでしょう。スウェーデン人の中でも最初から理解してくれる人は少ないです。コレクティブは、アパートに住む住人が、共同生活を営む組織のことです。基本的にやることは、半年に一回、グランドフロアーの食堂、キッチンとレクレーションの場の掃除、コレクティブの方針を決める会議、一週間のメニューを決めて、買出しにいくキッチン当番、そして2ヶ月に3回「食事当番」をします。そうすることによって、私たちは月曜日から金曜日までの毎晩の夕食を20から25クローンで購入することができます。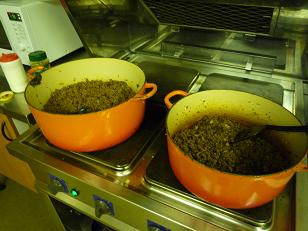 このビルディングに住む人たちは、やく40-50人ですが、全員強制的に入会しなければなりません。私は、ここにきて本当に良かったと思います。いっきに友達が沢山できたし、みんな本当にすばらしいやつらです!今日の料理当番は私とコスティアでした。メニューはタコス。ただ野菜をきって肉をいためるだけです。デザートはバナナスプリットです!今日はパブナイトなので、ビールやワインもでます!その後は私の真上にすんでいる、映画監督志望の学生ミカとトミーが、自分たちの作ったドキュメンタリーを発表します。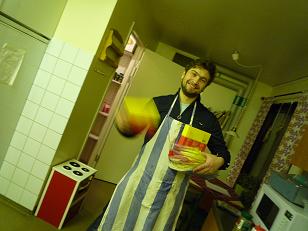 で、もう食事が終わったときから、テーブルは哲学者、数学者、心理学者などで満席になります。今の状況や、もっと自由な話題、たとえば自由とは?幸せとは?みたいな話題でヒートアップします。熱いです。わたしもかなり熱かったです笑。で、でも結局みんな楽しんでいるだけなので、別に違う意見だからってあとあとまで残るなんてことはないです。映画はミカとトミーが作りました。すごくシニカルで皮肉的なもので、いろいろショッキングなシーンがありましたが、全体を通してピクチャーがすばらしかったです。わたしはスウェーデン語が一切理解できないので、アンダースがたまに訳してくれました。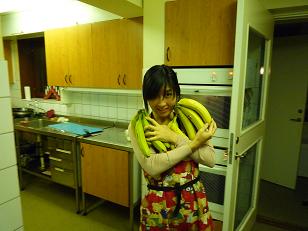 23時近くなって、カラオケが始まりましたが、みんな歌ちょー下手でした。でも楽しめばいいだけだろうなので、それでいいのだろう。わたしも歌いたかったけど、知っている歌(というか全部スウェーデン語)でが一個もなかったので、断念したのですが、フラットメートのペッシュはそれでも、歌詞とリズムがあるんだから歌えるじゃん、歌えよと無茶押しされました。食事最高だったし、みんな面白かったし、十分な金曜日の夜が家の中にいながらにしてすごせました。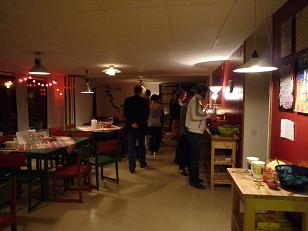 I live in the collectives in Uppsala. "Collectives?" It is a totally normal reaction if you are non-Swedish, because even few swedish people understand what it really is. Some say, that it is the place where the people have a "collective sex"? The other say it is a "communist community". Well, neither of them are correct, since most of the people I know who live here ended up here not by their desire to live here to be a member of such a bizzare interest groups, but rather because it was simply available for them! We do together the cleaning up of the common places in ground floor including the kitchen, the dining room, the guest rooms and the sauna house. We have an important meeting once a half year to discuss the future plan for the collectives and pass new regislations.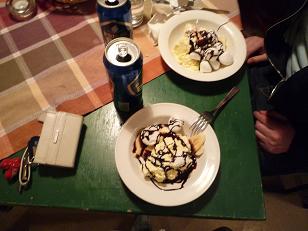 We also have to do three slots in two months either cooking or dishes and cleaning ups. Everyone can come down for dinner at 18:00 and buy it cheap, like 20-25 kr each! Today was the cooking day for Kostia and me, and our menu was Tacos. It's just chopping the vegs and stirfrying meats but you know we are feeding a biiig monster! We made a desert too which was banana split! They all were great and I enjoyed doing it despite the fact that my fingers were numb and polluted by too many vegs cuttings... We had a pubnight today as well as a film viewing afterwards, which was arranged by the two guys who live upstairs of mine. They study film making in the college and last summer they produced this 40mins long documentary which contains some sexual violence scenes. I had a chance to talk with them for quite long time after the film to get to know their opinions and film thingy in Sweden in general, as well as how they view the japanese film industry which i m much interested in these days. Overall, I spent great time on friday night at the collectives even if I didnt go out. Banzai the Collectives!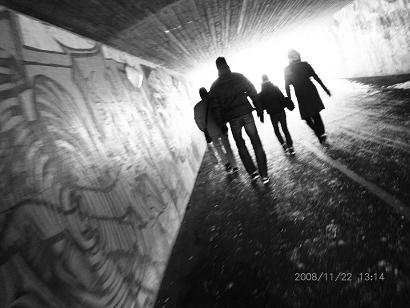 来る日も来る日も雪です。一番目の大雪の後、明けた朝は、スウェーデン人の家族やカップルや友達がみんなカメラを片手に街へでて写真を撮ったりしていました。こんな雪深い森の国で生まれ育ったスウェーデン人でもやっぱり最初の日はうれしいんだ、って思いました。今日日曜日もまた大雪ですが、近所を散歩してみると、昨日と比べ人の数は一段と減っています。ガブがベンチに座ってタバコをすっていました。写真を撮っていたし、にこにこしていたから向こうは私が雪が降ってうれしいと思ったのでしょう。彼は、自由に歩けなくなるからいやだといいました。「歩けるわよ、そんなもん・・・いつもスウェーデン人はいい服といい靴があれば、寒さは問題ないっていうじゃん!」といったら、まあ確かにそれは拒否しがたいけど、ね・・・、というかんじで遠いところを見ていました。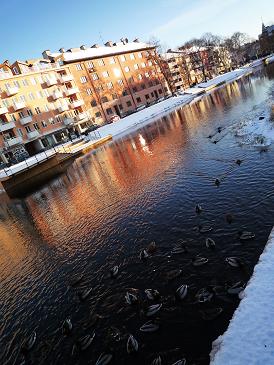 It is snowing here in Uppsala day after day. On Saturday morning after the first snowly night, I saw many swedish families, couples, and friends steped outside their houses with a happy look, yelping delightfully and taking photos of themselves in front of white, untouched snows. I was lightly shocked to see that even swedish people who have been raised in such a deep foresty snowly country can be excited about first snows. But in the second day, I met Gab sitting in the cold place outside his house, gazing the furtherest point on the gray sky, murmuring in a low voice "snow is not fun because you cannot walk around..." "Of course, you can. It's matter of having good clothes and good shoes like you guys always say!" "yes, but..." then he looked away again with his eyes wandering the snows blown up from bottom. "(ohhh...aww, but really, i love snows!) byebye Gab have a great day!!"I was feeling even happier.. Yey, I love snows, I love the winter and I am so excited! I am feeling stronger now after meeting depressed, melanchonic people who hate snows!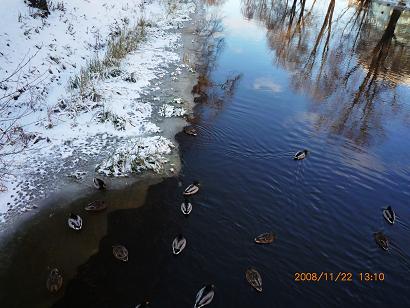 While I am writing this, snows outside get crazier as if a big white dragon playing the royal battle, the sun is shrunk behind the thick black clouds and the people are staying inside the shelters... What a beautiful day..! Lovely country! lovely weather! XXX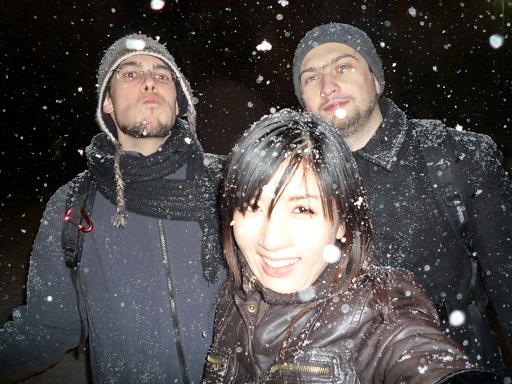 SNOWWW!!!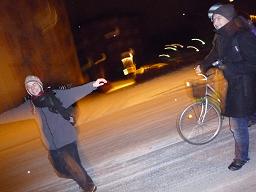 It started snowing around the late evening steadily and I was really not sure any more whether I was going to go to Flogsta. Kostia changed my mind when he came back from the gym as he suggested to take a bus. He even checked the timetable so I had no more excuse to make not going. In the end, it was a great party, with nice people and the sauna + walking back home with two fun tipsy guys!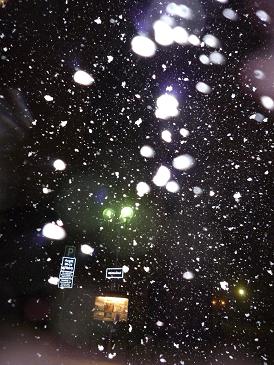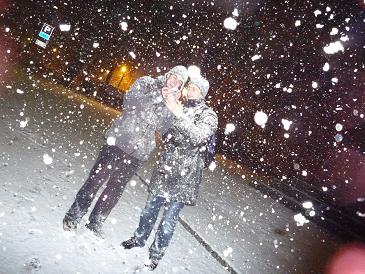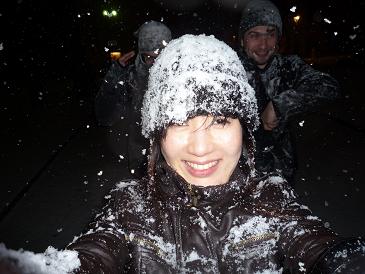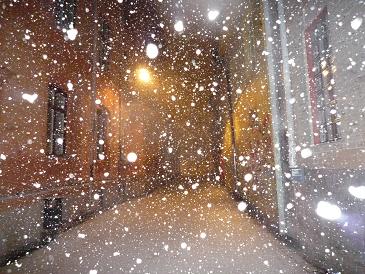 Well, I have been writing the paper the entire week including the weekend but I managed to go out several times to breath the cooold air in and out!
This application on FB I downloaded today excited me for a second!! We are expecting snow on Weds!! But to tell the secret only to my blog readers I have already observed tiny bit of snow for a few minutes outside my appartment window early this morning!!! YEY I cannot wait to see the whole town covered by the white snow!! :D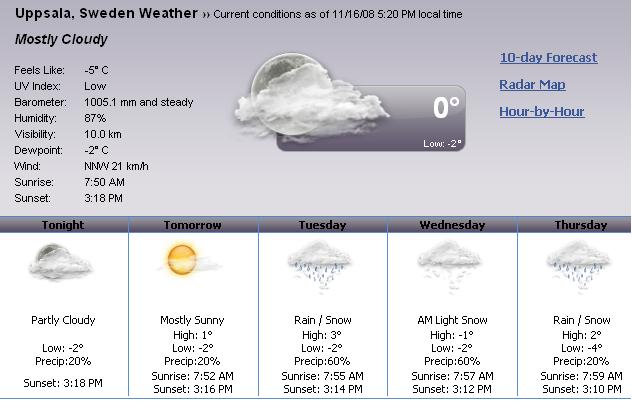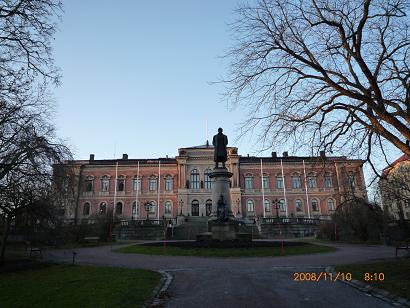 The morning on 10th November was beautiful. All the buildings in the city centre Uppsala were gold. The morning sun light were shimmering the small river that goes into the old part of the town. I am not poet and regret that I am aweful when I want to describe the beauty of the world in english words, it was that beautiful even a illiterate damn english writer like me wanting to say about trees I looked up and streets I have walked in that morning.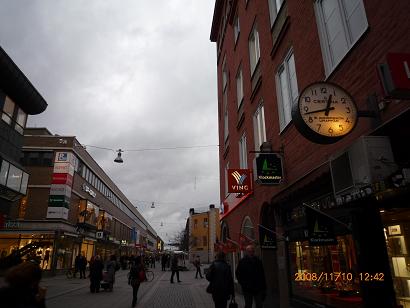 We all know that a life is beautiful because there is an end to it. The flowers bloom and show its beautiful colours and shapes only for short period. Crickets make a beautiful chirp which could be heard miles away to let us know the end of summer days and the end of their lives. The world wishes for peace because they suffer from wars. Well, what I wanted to say was nothing serious. The morning sun is beautiful in Sweden because there is no sun up here! This is the only moment when the sky could be visible from the ground and when the sun is showing his little symphathy to the people.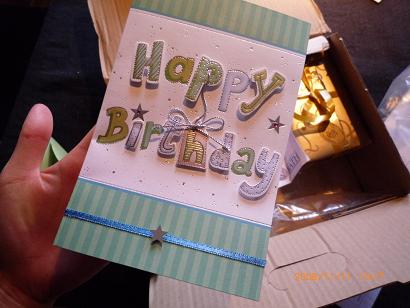 By the way, I have received the b-day gift from Chris today. I was quite happy despite of the fact that I am already 3 weeks old for receiving the birthday gift! They are the best waffles and chocolate in the world and there is really no exaggeration. The percel came while I was in Japan so I have informed Carl and Pezh about the percel and told them that they could open my gift and have the waffles inside, yet the postmen, despite of his journey to our place twice for a delivery, was not allowed to give the box to them without my ID! Finally, today, I have picked it up at the Tabacco near the roundabout. Back in home, removing the first layer of the box was not such a pleasant job. Overall, there should be the waffles of 3 weeks old invaded by bacteria and mold... aww my sweet waffles... Of course I still had a little hope that they survive from all that. If Japan in summer is like a microwave, Sweden in winter should be like a freezer. Oh well, it was as seen on the third pic. Not really that bad but not great for me to eat. (I am really sorry Chris...!!)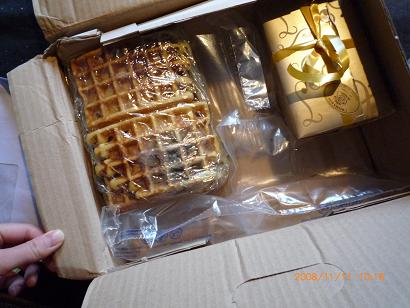 Perhaps I could sit down on the river bank and feed the ducks. Despite of the catastrophe to the waffles, the Leonidas praline was in tact and was as good as it could even be!! This chocolate is the best in the world and I am proud to announce the rest of the world that even leonidas originated acnes and blemishes are elegant and in fashion. I mean, I love it so much that what happenes afterwards is not in my consideration.